Thanks to Yuri Pines for the link.
(http://www.chinadaily.com.cn/china/2008-06/05/content_6737093.htm)
Parents call on Confucius for exam good fortune
By Cao Li (China Daily)
Updated: 2008-06-05 08:12
The Temple of Confucius in the center of Shanghai's old town was unusually full Wednesday morning.
Crowds of people, most of them in their 40s and 50s, burned incense, lit candles and prayed in and around Dacheng Hall where there is a sculpture of Confucius and also where national exams were held during the times of the imperial dynasties.
The good luck notes they hung on the trellises and trees outside the hall gave away their reasons for being there. Most read something like, "Dear Confucius, please help my son/daughter in the college entrance exam".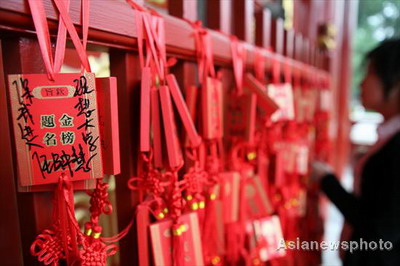 A visitor hangs a good-luck tablet on a shelf at the Temple of Confucius in Beijing June 3, 2008. [Asianewsphoto]
With the national examinations starting on Saturday, a growing number of parents have turned to Confucius, as a way to ease the pressure.
A cleaner at the temple, surnamed Xu, told China Daily that local people hardly ever visit the temple, but in the past week, hundreds of them had been.
"There are so many visitors coming these days, all the oil and incense burners keep filling up and I have to empty them several times a day," Xu said.
Visitors pay 12 yuan ($1.75) for a piece of notepaper, incense sticks, two candles and a length of red ribbon.
At the Temple of Confucius in Beijing, visitors have to pay 188 yuan for a wooden tablet on which to write their wishes, although the shelf on which these are then placed is now full, the Beijing Youth Daily reported Wednesday.
One of the visitors at the Shanghai temple Wednesday was 47-year-old Ye Qing. She said she was making a wish for her son who is hoping to study telecommunication engineering at East China Normal University.
"It will work if I am sincere enough," she said.
About 100,000 Shanghai students will sit the college entrance exam between Saturday and Monday, and their parents are doubtless all hoping for the same good fortune.
Many, like Ye, have booked hotel rooms close to the test venues.
Staff at several hotels in the city's Minhang district said they have been taking bookings since the beginning of last month, and many are now full, the Xinmin Evening News reported.
Sun Yu, a teacher at the Shanghai Foreign Language School, said parents are prepared to do whatever they can to help their children succeed, including enrolling them in expensive, extracurricular classes.
High school student Vicky Yang said all her classmates spend at least 500 yuan a month on exam-related books and extra lessons.
"Some pay up to 20,000 yuan a semester for classes that promise to help students secure a university place," she said.
Apart from books and classes, parents also buy their children special tonics to drink, Yang said.
"If you collected up all the empty bottles of tonic my classmates have drunk, you could make a small hill."